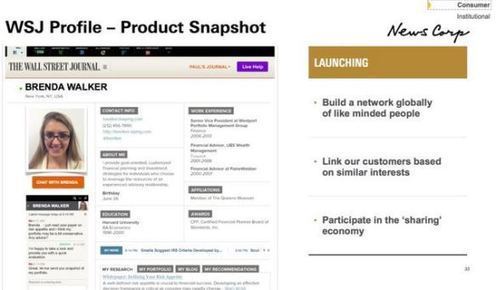 Late last week, News Corp addressed investors with a slide presentation that outlines the future of the Wall Street Journal's massive content network, possibly making is one of the Linkedin competitors.
Peg Corwin's insight:
Excerpt:
"The plan is to turn The Wall Street Journal into a destination for business men and women. Not just a place to read the news, but a place to network, exchange ideas and even store personal information."
My Portfolio is designed to track your investments and news, all together.
WSJ Profile allows you to link to customers with like interests. It is designed to encourage sharing and conversation. It includes custome news feeds and tabs for blogs, recommendations etc.
Author Cynthia Boris says, "I still think this is a good plan. If they can get it rolling, it will increase time on site and in turn increase ad dollars. As a side benefit, consumers might find a new boss, a mentor or a soul mate. That's nice."
See on www.marketingpilgrim.com
See More on Linkedin Competitors
Learn more about the Linkedin Business Model